Think sitting in a classroom all day would be boring? Not if you've got Richard Clark at the front of the room!
Richard has been involved in training and assessment for over 25 years and has worked across a number of industry sectors including rail, mining and emergency services.
Prior to arriving on the shores of Western Australia back in 2003, Richard was a firefighter and held the rank of Sub Officer taking charge at emergency incidents including road traffic collisions, fires and specialist railway incidents. As a Sub Officer Richard was also involved in the training and competency assessment of operational crews.
Early 2004 and still new to Australia, Richard completed a great deal of study before deciding to move into the rail industry, saying he chose this occupation because he "Saw how diverse and interesting the rail environment was and where it could lead and I wasn't wrong ".
Commencing a role as a safe working trainer and assessor, his career evolved over time and he moved into new positions in the rail industry including network control and work site protection as well as different roles in rail operations and safety management including leading investigations. 
The majority of training and assessment that Richard facilitates is around rail safety and investigations "Coming from a fire fighter background, an investigation can turn a negative into a positive in a proactive sense. Also you never know the lines of enquiry an investigation will take you down which can be exciting" The largest investigation he has been involved in was "Possibly a roll away of a piece of rollingstock from a private siding into a network and derailing on a set of points. It took so long to look at the interface agreements and then the different lines of enquiry".
Richard prides himself on his facilitation technique and often receives great feedback from his students stating how they enjoyed the training. Richard openly admits that interaction and engagement are the key to increased results, learner understanding and assessment ensuring confidence and competence. He keeps them interested in the classroom by "engagement and interaction. The more people are engaged the more they will learn, remember, see, say, do". His favourite part of being in the classroom is "definitely the engagement, no one looks at their watch or drifts off in my sessions ….challenge accepted".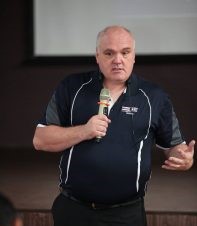 Richard ensures students and businesses alike know that his training and advise doesn't end when they leave the classroom or a meeting "Once we have parted company with a training session or investigation my contact doesn't end, my interaction and contact remains with the client for future reference."
He believes that ensuring training is a value add to any organisation and if executed the correct way will bring economic and safety benefits to the organisation. Richard enjoys the face to face meetings with clients to explore cost effective solutions whilst meeting corporate training goals.
He has undertaken further study to enhance and supplement his knowledge by completing 2 Diplomas in training and training design and an Advanced Diploma of Management and believes in keeping abreast of industry benchmarks and changes.
Richards skills also cover the ability to design and develop training packages contextualised to the client needs whilst maintaining legislative benchmarks.
Richard welcomes the chance to talk to industry and offer training solutions where required and gets a buzz out of achieving results.
WA Operations Manager Graham Barnes says Richard "brings an enthusiastic and passionate demeanour to the workplace. His positive and energetic approach transcends into the delivery of training courses and ensures training services objectives are realised through an enhanced and enjoyable learning experience. Richard is a valued member of the CERT Team".